British Invasion, Stowe, Vermont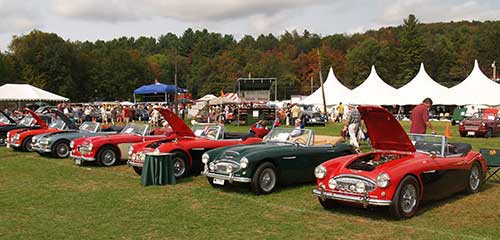 North America's largest British Classic Sports Car and Motorcycle Event! Experience British cultural activities, shops, crafts, Auto Jumble and the Car Corral. The participants are primarily from the US and Canada with over 600 cars on field, and approximately 1000 total. This event is "a Three Day Celebration and Salutation to the Great British Motorcar and all manner of other things British."
According to legend, the British Invasion began in 1990 "over a pint of ale" in Stowe, Vermont. It's a British and American tradition that's lasted over 20 years!
The primary focus of the British Invasion is classic British Motorcars. Every third weekend of September hundreds of British Motorcars descend on the beautiful mountain town of Stowe, Vermont to celebrate all things British!
NEW LOCATION since 2015 The British Invasion will take place on the Stowe Events Field 1/4 mile north of Stowe village just off Route 108 on Weeks Hill Road.
Events include a Notch Run Driving Tour, Tailgate Picnic Competition, British Pub, British Car Corral and much more. Click for all of the British Invasion Events!
British Invasion Block Party! Friday, September 18, 2015 | 6:30 - 9:30 p.m. Click for more information.